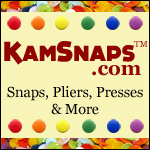 When I started making my own cloth diapers a few months ago, of course, one of the first things that occurred to me was that I could eventually make them to sell them and help support my little family! Soon, I was researching all sorts of diaper making materials from FOE (fold over elastic) to PUL (waterproof, polyurethane-lined fabric). Eventually, my research took me to snap presses. Since I would love to not only make one-sized diapers, but I would also love to use snaps in the closures, I was duly interested...until I saw the price tag. $80! Yikes! I mean, it's a good investment, for sure, but our tight budget does not allow for such expenditures at this time. "Oh well. I guess I'll stick with Velcro," I thought. "Maybe I'll be able to eventually make the money I need selling diapers to buy that snap press."
Then, one day, I found
Kamsnaps.com
. One of the first things that got my attention about their site was that in addition to an $80 snap press, they also offer Pliers for Plastic Snaps for a mere $27. Another thing that I notice is that they have the cutest snaps I've ever seen! In addition to many different colors and sizes of plastic snaps, they also have painted snaps with things like flowers or skulls, and engraved snaps with monkeys or the
Ooga Booga
characters we cloth diaper fanatics know and love. Can you say ADORABLE???
Of course I was thrilled when they sent me a set of pliers to review along with bumGenius blossom colored snaps engraved with one of the Ooga Booga monsters on it. On their website they have a
tutorial
that shows you how to
convert your tired aplix bumGenius to snaps
and they asked that I do so and blog about it in return for the amazing materials they sent. I was thrilled to, of course because my poor bumGenius diapers are a mess!! They are the first diapers I had and because I started out with so few diapers but was determined to cloth diaper full time, they really got some wear and tear. The blossom colored BG was especially tired since it was the only girly colored diaper I allowed in my stash for a very long time. The laundry tabs on that diaper no longer held the hooks back from snagging other diapers in the wash and it was starting to get to me that every time I pulled a load of diapers out of the washing machine, they came out in one long chain thanks to my tiring BG diapers.
When the snap pliers and snaps came in the mail, I was extremely eager to start
My pliers set came with:
Adding four studs and caps to the tab closures was a snap (ha ha! Pun intended!!!) after adding the snaps to the front of the diaper THROUGH the layers of microsuede. Again, I needed to make a template. I drew a template, measured the distance between the two rows of snap sockets on the front of my diaper, and measured to make sure the snap studs were the same distance apart, and added marks for each snap.
Then, like I did with the front template, I poked the awl through the marks, laid it over the tab closures, and marked the dots on my diaper.
Poking the awl through the diaper is super fun! I think I enjoyed it way too much! Be careful when you do so, so you don't end up with extra body piercings!
Stick the stud over the prong on the inside of the tab closure, and then squeeze the snap pliers over both pieces to secure the snap stud in place.
This part was SO much easier than the front of the diaper!!! Besides, I loved seeing the cute little monsters looking back at me. It gives the diaper a much more finished effect.
Am I the only one who makes such a huge mess when crafting?
Trying the diaper on. The snaps on this diaper don't click together as well as some of my other snapping diapers. But the snaps that I added to my handmade Tshirt fitteds work nicely--just like my professionally made diapers. I think it's just because I needed practice before doing this on my BG.